New Year brings new horizons! The collection of exotic beach textiles which was launched in August 2015 got a colorful upgrade in the beginning of the New Year. A few more ideas found their way into reality and now there are 5 different beautiful fish in the beach textile range. In addition to the royal striped and the sunny yellow, a sporty blue, a decorous brown, and a romantic pink were born – enough to choose from. The beach mats in high quality photo print are designed for children as well as adults, suitable for both indoor and outdoor use. The waterproof and UV-proof eye-catching big fish are fit to decorate beaches, homes and why not even the sun decks of luxury yachts? It takes about 1-3 weeks to complete the order of this attractive design product. Make yourself happy or surprise a loved one!
The joyful fish in their original colors also have their original names written on the mats; therefore, it is possible to search for additional information about their origin and other fascinating facts. What a Wonderful World!
The designer beach mats come with a nice introductory advertisement which can be printed out. More info: "News – Exotic Beach Textiles": www.visioontekstiil.com/en/new-summer-designs-in-photo-print
Let`s enjoy the original patterns from the treasure house of nature itself!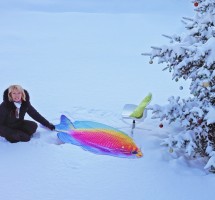 Textile Designer Liivi Leppik