There is open a beautiful exhibition "3D Textile Art"  31.12.2014 – 31.01.2015  in Wabadus Cafe, Vabaduse Square 10, Tallinn, Estonia. Welcome!
On the second floor of the cafe visitors will find original textiles in beautiful colours framed 3D pictures. The textile art with a touch of fantasy is meant for people who prefer unique creations. A bit futuristic fabrics fit perfectly into modern interiors adding excitement and luxury. The pictures presented at the exhibition are handmade using a patented technique, therefore, all of them are exclusive and unique. However, many of the stone textile pictures fit together considering both colour and pattern. One of the harmonious pairs is the combination of the silvery "A Visit to Jupiter" and the transparent "Arctic Lights of Jupiter". And there are more.
Here is a photo of luxurious 3D textile image "Golden Stones". The biggest piece from the latest collection is a mystically glowing crimson purple "Sunset on Mars". Alltogether there are 15 pictures presented – all of them marked with a small signature of brand name. All the designs are inspired by nature, they have a positive aura and they are full of surprises – fabrics that always make you smile. Of course, the best way to experience these creations is to see them with your own two eyes. You are very welcome to this exciting exhibition!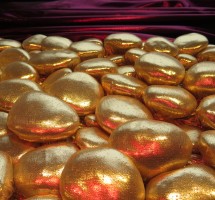 Exhibition "3D textile Art" – Wabadus Cafe,  31.12.2014 – 31.01.2015. Open: Mon-Tue 11-19, Wen-Thu 11-21, Fri-Sat 11-01.
The presented pieces can be reserved for ordering via +372 5149539, designer Liivi Leppik. The list with prices is available in the exhibition. Info www.visioontekstiil.com
There is also an article "3D Textiles Enliven the Interior" publised by Delfi News on August 13 for those who would like to read some more:  "3D Textiles Enliven the Interior