People always seek for something more, something thrilling.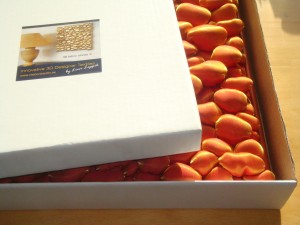 In creating modern textiles we can use innovative accessories and crafting methods: glowing glass beads, pearls, silk painting, fabric printing, embroidery, or shibori technique, which turns the plane structure of fabric into three-dimensional. The customer is involved in the creation process. Inspired by the Japanese shibori technique, the designer has created several patented techniques for interior textiles, and therefore, beautifully patterned 3D fabrics can be used as curtains, lampshades, or wall decorations.
The three-dimensional pattern of 3D curtains appears like a waterfall and these one – or two-layered curtains are produced by employing special designer technique using see-through organza fabric. Especially striking is the two-layered curtain where one colour glimmers through the other one creating numerous other beautiful shades. It is possible to make a wavy 3D-patterned side curtain also using taft or other fabrics. All hand crafted designer curtains are washable (hand-wash is advisable). The curtains go through thermal processing and do not need ironing, therefore, they are perfect for a modern person living life in the fast lane.
Fresh 3D textiles give life to minimalist interiors and the customer feedback has been nothing but positive.
Get acquainted with the various possibilities of interior textiles on our homepage. By working together it is possible to create a very unique product offering years of delight..