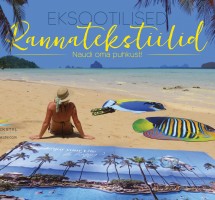 Collection of Waterproof Exotic Beach Textiles. Available in 6 different beach blanket: Maui Paradise, Pink Plumeria Beach, Bright Blue Sea, Under the Palm Tree, Blue Stones and Good Luck! Beach Blanket sizes 205 x 145 cm/135 Eur.
Welcome to look exotic beach textiles. Please make your choice here:
Beach Mat "SunFish" – available in 5 different tropical fish.
Orient. sizes 182 x 92 cm / 149 Eur / with special bag. Only fish 105 Eur. Beautiful Sunfish with original names. Please make your choice here:
Collection of Waterproof Exotic Beach Textiles more info here: www.visioontekstiil.com/en/new-summer-designs-in-photo-print
Please write your order here: liivi@visioontekstiil.com +372 5149539
Enjoy your summer, designer Liivi Leppik