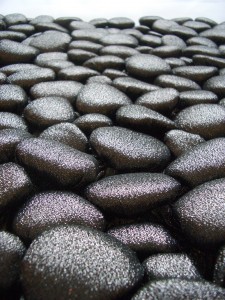 3D Textile Art /Stones patented as a design technique!
The 3D textile Stones is one of the most original fabrics among 3D textiles. The handcrafted decoration imitates stones on the beach and is extremely eye-catching. Exceptional Textile Art for modern interiors.
The designer Liivi Leppik´s technique has been patented in the Estonian Patent Office in November 2008 and is affirmed in the International Encyclopedia of Textiles in the Textile Art category in January 2010. It has also been represented at several design exhibitions.
The three-dimensional soft fabric restores its stone shape even after touching. The original 3D textile is set in a fine metal frame as an eye-catching wall picture and it seems as if real stones were hanging on the wall. Every possible colour gives a different captivating effect. The decoration looks especially stunning in directed light. Real stones give positive energy and so does the fabric.
The stone fabric decoration is usually created in desired size and colour during a few weeks by handwork, so each wallpicture unique. As the "stones" are empty, the picture is light in weight and can easily be sent by post. You can get the first impression by looking at our photos but the real effect is evident when actually looking at the stone fabric. In a suitable box, the picture is perfect to send as an original gift. The original textile pictures in several various colours have travelled into many countries worldwide: Finland, Sweden, Norway, Denmark, England, Switzerland, Italy, Iceland, USA, Canada, Chile, Singapore, Australia and New Zealand.
AS of September 2013, all the magical 3D Textile pictures are marked with a new engraved brand name – ILLUSIONS by Liivi Leppik. In case you are interested in ordering the stone fabric in desired dimensions and colours, feel free to ask for more informations – liivi@visioontekstiil.com
From the May 1 to October 31 EXPO Milano 2015 takes place in Milano, Italy. Among the Estonian exhibition there is also one of the 3D textile stones steel-grey picture "A Walk on the Starlight". More from homepage News.
NB! There is also a ready-made textile pictures: sizes are 17 x 17 cm up to size 50 x 125 cm. The prices of images are from 45.- up to 450.-Eur. Please look our catalog/pricelist and ask for more about the different sizes and colors of the stone images : liivi@visioontekstiil.com
Collection of 3D textile Stones wall pictures in various colours is available in:  LuxTerra / Peterburi road 14A, Tallinn, Estonia (examples: gray, white, orange)